Fly to the Moon and Back with 3M's Aerospace Innovations
The aerospace industry has unique needs and Gleicher Manufacturing has the 3M products you need to meet them.
If you're stripping paint from an aircraft, you can't take chances with a substandard product. Use Department of the Navy Technical Order (DNTO)-approved 3M Aluminum Foil Tapes, to mask and protect windows, seams, wheels and other components.
Our engineers designed Aluminum Foil Tape 425 to withstand temperatures up to 300oF (149oC).
Aluminum Foil Tape 427 is a linered version of the 425 Tape, which you can have die cut it to shape, making it easier to mask windows and other areas that need protection.
Both Aluminum Foil Tapes, 425 and 427, not only have the strong initial adhesion you need, but can also withstand exposure to heavy-duty paint stripper for 72 hours. Once the process is complete they pull off easily, without leaving residue behind.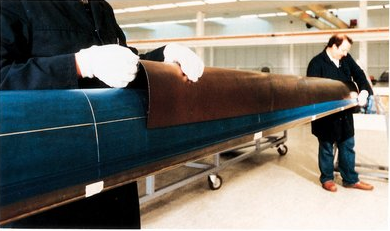 In addition to DNTO approval, 3M Aluminum Tapes can also be certified to meet SAE-AMS-T-23397 and FAR 25.853(a) and 25.855 requirements. This makes them suitable for other aerospace applications, including sealing off areas to keep out debris and for finishing applications, such as protecting surfaces during electroplating and anodizing.
Trust Gleicher Manufacturing to help you choose the best product for your application. We're a 3M Preferred Converter with more than 40-years of experience in aerospace.
Our dedicated aerospace specialist will work with you directly to meet the complex regulatory demands of your project. We forge a personal relationship with all of our aerospace customers.
Contact us during R&D to get the conversation started and let us get your project off the ground.