Gleicher is a Screen Manufacturers' preferred resource for 3M Display Protection and Enhancement Films
Using Display Enhancement and Protection Film solutions from 3M, Gleicher can help Engineers customize solutions that extend screen life and improve visibility.

3M's optically clear, ultra-thin films offers greater than 93% transmission, keeping displays bright with no color distortion. But instead of degrading touch-screen performance, these films extend performance for resistive touch displays, up to 3x.
And these newest 3M films are resistant to Clorox® germicidal wipes, IPA, window cleaner, motor oil, cola, coffee, permanent marker and other harsh cleaners used in hospitality/health care environments.
Offered in three product families
These films can control the distribution of light for a better user experience, and help protect displays against damage that can occur from the rigors of everyday use.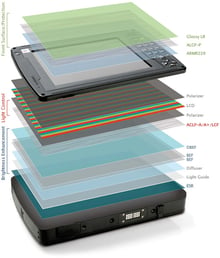 3M™ Protection Films help protect displays against damage that can occur from the rigors of everyday use. Engineered with a low-tack adhesive, the films are easy to apply and easy to remove. Available in a variety of finishes to meet specific application requirements.
3M™ Light Control Films control the distribution of light perpendicular to the louver structure. This can be used to create privacy, control reflections or improve display contrast.
3M™ Display Enhancement Films are used to increase the brightness of backlights used in LCDs. The primary goal in adding these films can be to increase brightness in the display or it can be translated to power savings or thermal management.


Applications:
• Protection of display from scratches and scuffs
• Reduction of reflection anywhere within the display
• Improved viewing
• Privacy of display data


Click to Review the Cross Reference Chart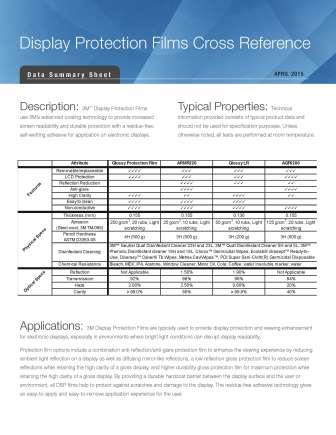 Let us show you why we're a 3M Preferred Converter.