Gleicher: More than a Tape Converter for Transportation and Aerospace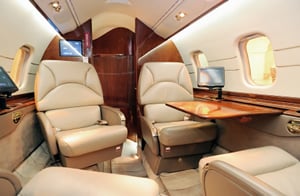 Gleicher Manufacturing has been converting and supplying VELCRO® Brand fasteners to automotive and aerospace OEMs since the 50's. More recently, we partnered with 3M and now there's almost nothing we can't help fasten, seal, bond, or attach.
Demanding applications require unique performance demands at an affordable price. We have addressed these challenges with great success by providing solutions that improve productivity, enhance appearance, reduce weight and cut costs.
Move away from bulky rivets and holes, and explore modern, lightweight options that increase energy efficiency while producing smooth surfaces that are easy to clean and aesthetically pleasing.
New adhesives with embedded technology bond to a multitude of different substrates with just the right amount of adhesion to allow you to create permanent bonds or removable panels. Whether your challenge comes in the form of thermal expansion or graffiti, we've got the solution.
Rely on Gleicher's experience to not only to help you select the right product, but to increase efficiency and affordability.
Avoid the frustration of rough cut samples that can interfere with prototype testing by working with Gleicher from the start. Contact us during R&D to get the conversation started.
Solutions
Protective Components
Protecting painted or delicate components is crucial to meeting today's high quality standards. Versatile touch fasteners make this easier and help reduce scrap. Reusable covers that open and close with hook-and-loop are custom-fabricated to wrap around everything from wiring harnesses to instrument panels.
Seating
Seat assembly with reclosable fasteners is more cost-effective than ring-and-wire or adhesives. They also reduce scrap and rework, while giving you more design flexibility. That's why hook-and-loop is so widely used to secure seat trim covers and, increasingly, for armrests and headrests, too.
Storage Systems
The emphasis on convenience and safety has increased the demands on design engineers to use interior space more efficiently.
Electrical Systems
Automotive engineers estimate that some 60 percent of all warranty returns involve electrical system problems. With electrical/electronic distribution systems (EEDS) handling more vehicle functions (and more complex functions) all the time, they need more protection than ever.
Floor Coverings
VELCRO® Brand and 3M both have products to make an ideal fastening system for carpeted space. Gleicher supplies a wide variety of standard and made-to-application items to help secure carpets and mats in vehicle interiors, trunks and cargo areas.
Headliners
Headliners can be fastened easily and quickly with fasteners and foam laminates. These are cost-effective, out-of-sight and cut assembly time, fill the space between headliner and roof, and help muffle noise from squeaks, rattles and vibration.
Module Assembly
With so many automotive assemblies being supplied as modules these days, versatility is more important than ever. They shorten production time by simplifying the assembly of everything from door panels to bumper energy absorbers, and we can provide them in all sorts of shapes and sizes, even for custom applications!
Have questions? Contact Gleicher Manufacturing today for more information.
Ask a Question