Gleicher Stands and Delivers When It Comes To Defense, Tactical and Military Fastener Applications
If you're working on a project for the U.S. military you've got to meet exacting design and documentation standards. The converting experts at Gleicher Manufacturing Corp. have the experience and resources to help you dot every "i" and cross every "t."
Our experts have decades of experience with military defense projects. Gleicher first established itself as a military product provider as far back as the 1940's when it began working as a supplier to the U.S. Navy. Whether you need to track down an NSN number quickly or need to find a product that fits federal specifications, our experts offer you the tools and resources you need to ensure that you get the product you need.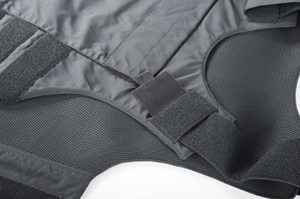 Start a conversation during R&D and benefit from the knowledge we've compiled over half a century working as one of only 25 3M Preferred Converters in the country. Our experts have created precision attachment and assembly solutions for military clients by helping them to choose and customize the products that will stand up to the rigors of a military environment.
Velcro Companies manufactures an extensive line of fasteners that meet the design and performance requirements of the U.S. Military. And our 3M products can also help make your device more lightweight, portable, energy efficient and environmentally friendly.
Our experts have the experience to help you navigate the challenges that come along with using a lightweight fastener, such as compensating for decreased substrate weight by selecting the right adhesion, increasing reinforcement and adding heat and flame resistance. We can also help you answer questions like how to choose best backing for your application, rubber of acrylic.
We continuously strive to broaden our reach in support of our country by offering unique custom solutions for some of the most challenging soft-goods and hard-goods applications.
Gleicher is more than a converter. Make us your partner in military innovation. Find out more about our specialized solutions for miltary use.
Military Spec and Tactical Device Fasteners
Adhesives
Reclosable fasteners with factory pre-coated adhesives can make your assembly process easier. They can replace the problematic adhesives in your factory: messy liquids or dangerous hot-melt adhesives can cause burns and damage delicate materials.
Fire-Retardant Applications


Gleicher Manufacturing

offers a wide variety of high quality military hook and loop fasteners to satisfy your fire-retardant application needs. You'll find these types of fasteners in many different applications, including seating, insulation blankets, carpeting and wire management.
Knits
VELCRO® Brand knit nylon loops have been designed for use in a wide range of applications from disposable products to high strength fabricated straps.
Woven Hook and Loop
The VELCRO® Brand woven hook and loop fastener is where it all began. Our nylon HOOK 88® and LOOP 1000® is used just about everywhere! Our family of woven fasteners includes the traditional nylon hook and loop, in addition to a number of other nylon and polyester fasteners.
Other Reclosable Options
3M DUAL LOCK recloseable fasteners are environmentally durable and give you alignment ease - listen for the audible snap!