We're Proud to be a Velcro USA Inc. Preferred Converter Distributor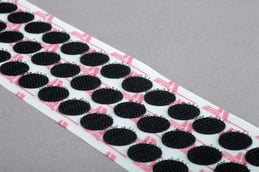 Staying nimble is critical in manufacturing. So when you turn to a Converter for help in developing new products, you need one that's plugged in to the material suppliers. Gleicher is proud to further tighten the relationship with Velcro USA Inc. by earning the status of Preferred Converter.

As a Preferred Converter, Gleicher has even stronger relationships within the re-closable fastener industry. This helps us innovate and keeps us on the cutting edge of what is new and relevant in research and development. That's one of the reasons why you should prefer Gleicher Manufacturing, but there are others.
As one of only five Velcro USA Inc. Preferred Converter Distributors in the country, Gleicher offers:
Gleicher Custom Materials - if an application needs a new hook shape, a unique color, a special adhesive, or a hybrid technology, Gleicher engineering staff will team with experts from Velcro USA Inc. to help design, test, and manufacture the material that matches virtually any technical requirements.
Custom Fabrication and Conversion - Gleicher converting services can reduce manufacturing time and costs while improving quality and your bottom line. With fabrication facilities in Scotch Plains NJ, Gleicher is a reliable source of high-quality components, kits, and sub-assemblies ready to be integrated into the most demanding product applications.
Custom Delivery –Gleicher has access to bulk material shipping and delivery options. Converted materials are available as individual components, sub-assemblies or kits shipped to meet customer needs.
Best Pricing - We buy in big volumes, so we can offer low prices.
Access to Global Support - We can offer access to the best technical, marketing and sales support across the world.
Extend your team with our VELCRO® Brand Fastener specialists - Gleicher specialists can be your liaison to technical and marketing product teams. If we can't provide answers to your questions, we'll find out or make sure you get connected to someone in the Velcro Companies. You'll get what you need: 908.233.2211 and sales@Gleicher.com