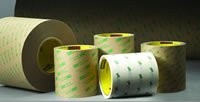 When you need to simplify your assembly, improve your manufacturing efficiency, add superior performance characteristics and reduce total costs, take a close look at Die Cut Pressure Sensitive Adhesive Tapes from Gleicher!
We produce "Best in Class" specialty die-cut parts made from Pressure Sensitive Adhesive Tapes supplied by the world's leading adhesives manufacturers. These materials combined with Gleicher Manufacturing's 50 years of converting experience and expertise have proven time and again to add value to products and profits to our customers bottom lines!
Adhesive Transfer Tape or ATT - A film of pressure sensitive adhesive typically coated on a silicon treated, release liner. When pressed to a substrate, the adhesive transfers to the surface, providing a thin, neat glue line. Rubber or Acrylic Adhesives / Permanent or Removable Bonds / Film or Paper Liners / 0.0025" to 0.0150" Thickness / Hand or Automated Application available.


ATT Laser or Die Cut - Gleicher Manufacturing takes a roll of tape and cuts into the size strip or shape you need for assembly. Just contact us with your dimensions and quantity, sales@gleicher.com or 888.818.5798.
Components and Opportunities
Components in electronics, computers, computer accessories, automotive, aerospace, displays, furniture, appliances, toys, orthopedics, medical, instrumentation, lighting, office equipment, metal fabrication, etc.
Technological Advances of Pressure Sensitive Adhesive (PSA) Tapes are resulting in new and unique opportunities to address more and more design applications everyday. PSA Tapes can provide removable convenience or structural bonds.
Gleicher Precision Converting...
for assembly-ready parts
Cutting - Laser, Flatbed, Rotary

Individual Pieces, Multi-piece Pads, Kisscut in Rolls, Kits

Liners - Tabs, Perforated, Registration, Extended, Split

Laminate with Adhesive - Multi-layer, Wide Web

Slitting - Wide to Narrow

Pre-production parts start $150.00

888.818.5798 or sales@Gleicher.com