3M™ Dual Lock™ Reclosable Fasteners - STOCKED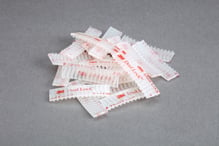 3M™ Dual Lock™ Reclosable Fasteners can solve your design dilemmas—replacing screws, bolts and rivets as a tool-free, seamless fastening system. The industrial fasteners work similarly to hook and loop products, but offer five times the holding strength and are still lightweight. They have interlocking mushroom-shaped stems that "snap" together for strong fastening on one side and 3M adhesives to securely adhere to various surfaces on the other. Example: Removeable panels and fastening system used for retail shelf tag holders, signs, talkers and label mounts.
We will cut 3M™ Dual Lock™ Fasteners to your size or shape and we stock and sell 50 yard rolls with and without adhesive in widths from 1/2" to 8" wide. See the guide below to determine the color, stem count and adhesive and contact us with your questions.
Download the 3M Dual Lock Reclosable Fastener Guide here
Standard
Part Number

General Information

Black fastener with clear acrylic adhesive
Available 1/2"-6" wide x 50 yard rolls or we can slit or cut to length
Temperature and UV resistance
Clear acrylic sticks to metals, glass, and plastics such as ABS, acrylics and polycarbonate

Our Best Seller! 1" (25.4 mm) wide SJ3560

Clear fastener with acrylic adhesive
Stocked 1/2"-6" wide x 50 yard rolls or we can slit or cut to length
Highest temperature performance, UV resistance
Clear acrylic sticks to metals, glass, and high surface energy plastics
TB3560, TB3561/TB3562, 1" x 10 feet roll Trial Bags

Black fastener with modified acrylic adhesive
Stocked 1/2"-6" wide x 45 yard rolls or we can slit or cut to length
Medium temperature performance
Modified acrylic sticks to many plastics and powder coated paints, medium to low surface energy (LSE) materials
TB3870, TB3871/TB3872, 1" x 10 feet roll Trial Bags

Black fastener with rubber adhesive
Stocked 1/2"-6" wide x 50 yard rolls or we can slit or cut to length
Lower temperature performance
Rubber sticks to many plastics and powder coated paints, low surface energy materials
TB3540, TB3541/TB3542, 1" x 10 feet roll Trial Bags

Black fastener - no adhesive (Clear SJ3460 Type 250)
Stocked 1/2"-6" wide x 50 yard rolls or we can slit or cut to length
No Adhesive
SJ3443, SJ3444 & SJ3445 thicker and can be used with 3M hot melt or liquid adhesives
SJ3463 13/16" Diameter with 0.16" hole, 1000 pcs
ILow Profile
Part Number

General Information

Low profile, clear fastener with acrylic adhesive
Stocked 5/8"-24" wide x 50 yard rolls or we can slit or cut to length
High temperature performance
Clear acrylic sticks to metals, glass, and high surface energy plastics

Low profile, black fastener with acrylic adhesive
Stocked 5/8"-24" wide x 50 yard rolls or we can slit or cut to length
High temperature performance
General purpose acrylic adhesive sticks to metals, glass, medium to high surface energy plastics and paints

SJ4580

Low profile, clear fastener with acrylic adhesive
Stocked 5/8"-6" wide x 50 yard rolls or we can slit or cut to length
High temperature performance
Acrylic sticks to powdered coated paints, polypropylene, sealed wood, glass, metal, foam, fiberglass for panels, displays, carpet, cushions, electronic devises