VELCRO® Brand QWIK TIES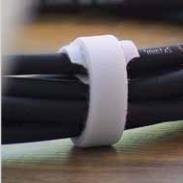 Cable ties with custom print and colors
Gleicher is proud to offer VELCRO® Brand QWIK TIES when you need a low-profile, medium durability self-gripping fastener made from a polyethylene hook laminated to a nylon loop.
Printed cable ties can aid Product Assembly processes or provide information to end users.

Custom printing is also available on the hook side of VELCRO® Brand QWIK TIES. Printing will not deteriorate after use or impact performance of the fastener.
Designed specifically for commercial bundling and plant stabilization applications, Gleicher will help you sort through the options in VELCRO® Brand Bundle Ties. They feature a molded high performance resin-based hook fastener laminated to a non-woven polyester loop. These ties function well in moist, wet, cold, and frozen conditions, and will not rust like metal ties. The strap lamination is permanent and will not de-laminate due to adhesive deterioration in hot temperatures.
Gleicher can also get you a convenient dispenser that can be clipped to a belt loop of the assembly worker for easy access as they work!