We put our name behind every job
A third-generation family-owned business, Gleicher Manufacturing emerged in 1949 as a supplier to the ladies fine handbags. Since then, we've established ourselves not only as a dependable, knowledgeable provider of product solutions, but also as an innovator for whom "good enough" is never enough. We want your product to exceed expectations. After all, we are literally putting our name behind every job.
Yes, we are proud of Gleicher Manufacturing. That pride is evident in our front office, in our state-of-the-art fabrication shop, in our quality-control lab, in the dedication of our product specialists, and in our consistently superior end product. It has earned us the status of Preferred Converter with industry giants 3M and VELCRO® Brand. It has also earned us the honor of high expectations: our customers know they can safely assume a level of service, quality, and innovation unmatched in the industry.
So what do you want to do? The Gleicher team is ready to turn what you want to do into what you can do.
Sincerely,
Charles Gleicher
A name you can trust.
As a respected industry leader, we've been proudly family-owned since 1949, with a history of excellence and achievement in serving our customers.
And we're equally proud of the Gleicher name, its roots, and the important words which it represents: uniform, identical, and standard.
Today, these words stand as a promise of excellence to every customer and project.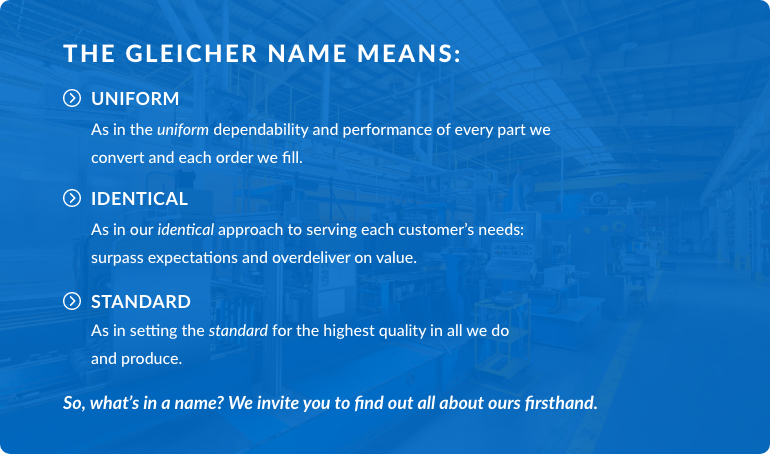 Confidence in Converting: The Gleicher Approach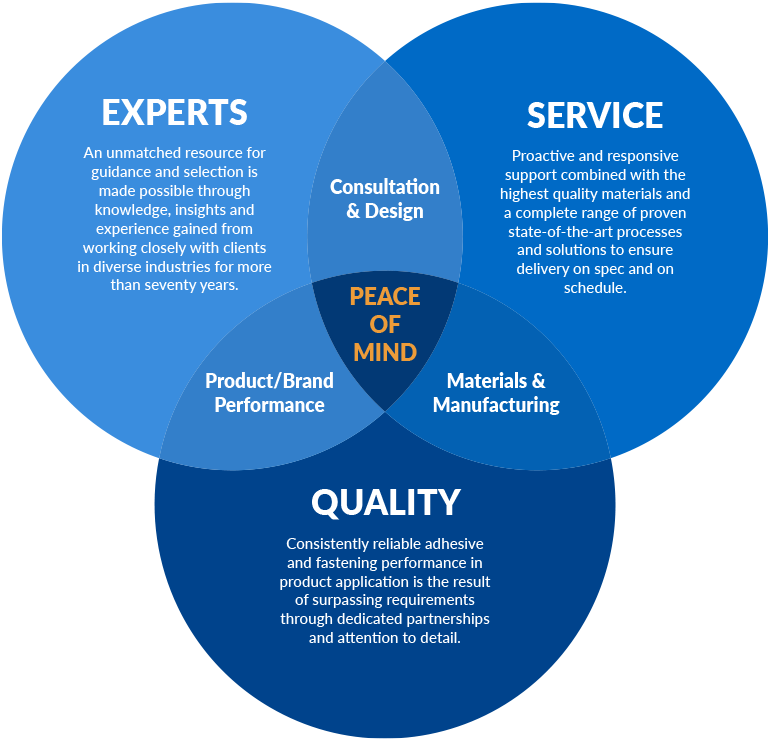 Making great products even better.

Gleicher Manufacturing engineers, custom fabricates, and supplies bonding, sealing, and fastening components for some of the world's most demanding customers. The list of discriminating clients includes the U.S. military, and leading aerospace, electronics, and medical device companies. That's why our 20,000-square-foot New Jersey manufacturing facility offers the most advanced precision laser cutting capabilities in a temperature- and humidity-controlled clean environment.
We're experienced and friendly.

We've got "been there, done that" expertise. Our product specialists are former 3M and Velcro Industries employees who understand scientific protocol, know their key product lines inside out, and are always ready to help you make the right choice. If you don't know what you need, it's a safe bet they will.
We're a Preferred Converter for 3M and VELCRO® Brand

Of the more than 3,000 converters in the United States just 25 are 3M Preferred. We're honored to be one. Our relationship with 3M goes back 50 years. We know the existing product line, have early access to new products, and can connect you to their considerable R&D resources. Our relationships with VELCRO® Brand and Roger's Corporation are equally solid: we're both a Preferred Converter and a top Distributor.
Avery Dennison, St. Gobain, Polyonics, YKK, Scapa, and Griswold Rubber are among the other highly respected suppliers we source for the best materials on the market.
You demand only the best. So does Gleicher.