Why Choosing a 3M Preferred Converter Makes Sense
These days, rapid change defines the manufacturing industry, so when you turn to a converter for help in developing new products, you need one that's keeping pace. Like us.
As America's leading 3M Preferred Converter, Gleicher grows and adapts to all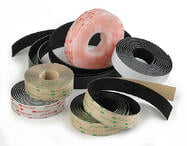 developments within the industry. We're innovators, and we are always on the cutting edge of what is new and relevant in research and development. This is just one of the reasons why you should prefer us, but there are many others.
As one of only a few 3M Preferred Converters in the country, Gleicher offers:
Access to the newest technologies. We are closely aligned with 3M and have immediate access to its latest technologies and to its laboratories, esteemed scientists and their research and product testing results. We also get the new 3M products first. Also, we can set up a Gleicher and/or 3M Solutions Seminar.

Access to Global support. Whether you're in Europe or Africa, we can help source the 3M Tech Services for your research and development or production. We can offer access to the best technical, marketing and sales support across the world.

Extend your team with our 3M specialists. Gleicher specialists can be your liaison to 3M's technical and marketing product teams. If we can't provide answers to your questions, we'll find out or make sure you get connected to 3M. You'll get what you need.

DFM means production ready. Because we offer everything from one-off, die-cut samples to problem-solving expertise, we make sure you are prepared for manufacturing. This way, you're not wasting precious time and resources troubleshooting when your new product hits the assembly line.

Best pricing. We buy in big volumes, so we can offer low prices.

Daily shipments. With us, you don't need to wait to batch orders. We have access to daily shipping, and we order from 3M daily.
We're your partners in innovation. Let us show you why we're a preferred converter. sales@Gleicher.com