Removable, Repositionable and Temporary Tapes

3M™ Removable Tape and/or Repositionable Tape offers versatile adhesive and liner options to meet your individual and unique design specifications.
These double coated tapes are perfect for temporary tape applications for both long-term and short-term needs. While easily removable, a permanent quality is featured as well. Tear-resistant characteristics also allow for an on/off and open/close application assembly as needed.
The different adhesion levels within the product line allows for bonding capabilities including the following materials: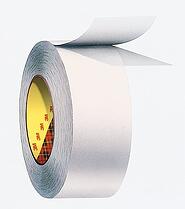 Glass
Metals
Wood
Paper
Painted surfaces
Numerous Plastics

Applications

Reclosable bags or envelopes
Removable stickers and labels
Point of purchase displays
Temporary hold for packaging materials
Removable/changeable foam gasketing

For additional application ideas, Download the DATA SHEET
and learn all you can about 3M Repositionable Tapes.

We can cut tapes into strips and shapes with dies or laser cutting. Also, we can laminate the adhesive onto industrial materials. Contact us with your dimensions and quantity at 908.233.2211 or sales@gleicher.com for a free estimate.

Quick Reference Table

3M Repositionable Tape
Details
665

Tape thickness: 0.0035 in (0.089 mm)

Liner thickness: No liner

Color: Clear
Carrier: UPVC

666

Tape thickness: 0.0035 in (0.089 mm)

Liner thickness: 0.003 in (0.076 mm)

Color: Clear

Carrier: UPVC

9415PC

Tape thickness: 0.002 in (0.050 mm)

Liner thickness: 0.0056 in (0.14 mm)

Color: Translucent

Carrier:

Clear Polyester

9416

Tape thickness: 0.002 in (0.050 mm)

Liner thickness: 0.0056 in (0.14 mm)

Color: White

Carrier: Tissue

9425

Tape thickness: 0.058 in (0.15 mm)

Liner thickness: 0.0042 in (0.10 mm)


Color: Clear

Carrier: UPVC

9425HT

Tape thickness: 0.0054 in (0.13 mm)

Liner thickness: 0.0042 in (0.10 mm)


Color: Clear

Carrier: Clear Polyester

9449S

Tape thickness: 0.0004 in (0.01 mm)


Liner thickness: 0.025 in (0.063 mm)

Color: Translucent

Carrier: No Carrier