3M™ Silicone Laminating Adhesive Tapes give OEMs and converters the ability to achieve high bond strengths to most silicones and difficult-to-bond-to substrates.
The new products, 3M™ Adhesive Transfer Tape 91022 and 3M™ Double Coated Tape 96042, are designed with a single liner and a high performance adhesive, enabling productivity impr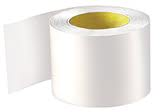 ovements for users through faster and easier processing. Gleicher Manufacturing Corporation will gladly customize the size and shape of the laminating adhesive to the desired dimensions for all of your project needs.
The tapes' unique 2-mil PET liner offers a number of benefits. Because it is a single liner, waste is reduced by 50%, which saves users the time and cost to remove and dispose of a second liner. The liner release has also been shown in testing to be superior to competitors. With a 12-month extended shelf life, the liner offers extended usability as well as another route of reducing waste. Additionally, the liner can be easily die-cut to precise shapes with clean edges, and offers good tear and moisture resistance.
3M™ Adhesive Transfer Tape 91022 and 3M™ Double Coated Tape 96042 are designed with a 2-mil pressure sensitive silicone adhesive that adheres on contact, without priming, to hard-to-bond surfaces such as silicone rubbers and foams, polypropylene, polyethylene and other low-surface-energy materials. The tapes hold with high shear and good peel strength, resulting in a high initial bond for immediate part processing. Gleicher Manufacturing Corporation makes the bonding process quick and easy by tailors the adhesive to the exact shape and size needed. With excellent high temperature performance and reliable solvent resistance, these products can help converters and OEMs meet their design challenges.