Replacing mechanical fasteners may seem challenging, but wor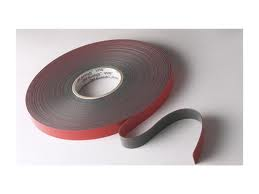 king with 3M, Gleicher has the material science capability and application testing tools to help customers make better use of tapes and adhesives.
Adhesives & Tapes offer a unique attachment method to revolutionize new product designs offering specific advantages over mechanical fasteners. These products are increasingly replacing rivets and welds in challenging new applications.
So, what type of materials can Gleicher help to offer solutions towards? Advanced materials such as composites and new plastics offer new material choices that require new and sophisticated attachment solutions, including:
Aesthetics: Surface finish is a critical parameter in building an appealing device, adhesives provide invisible fastening and clean appearance.
Dissimilar Materials: Attaching two different materials is a challenge for conventional fasteners; adhesives provide bonding systems that are compatible with a vast range of material combinations and provide a solution for mismatch in C.T.E.
Durability: Demanding applications require a demanding solution; adhesives have found application in a wide variety of environmentally challenging areas including cold, heat, UV, and vibration.
Reliability: Adhesives have been used in demanding applications for over 60 years and will continue to provide an excellent option for revolutionizing your next design.
3M™ VHB™ Tape is highlighted in the following Modern Marvels YouTube video showing how powerful this can be!
Wherever you are right now, look around and you can find adhesive technology at work. Components of your computer; laminate on your desktop; wood, plastic, foam, and fabric of your chair. Metal filing cabinet. Ductwork in the ceiling. Glass in your window. Your car outside and the golf clubs in the trunk. The plane passing overhead. The satellite several miles higher. In many of the applications that you'll find, adhesives and tapes have replaced rivets, screws, nuts, bolts, nails, staples, needle and thread, or welds. Often, adhesives and tapes make the application possible.