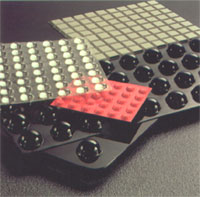 Gleicher Manufacturing has been converting bumper materials since their inception. We have engineered new and cost-effective methods of converting these products for unique applications for customers.
Bumpon products are die-cut polyurethane materials used to protect surfaces from scratches and dents. Gleicher supplies Bumpon products with pressure sensitive resilient materials that have a high coefficient of friction and resist skidding on most surfaces.
Gleicher Manufacturing engineers assist in product design, material selection and product methods to provide customized applications for you and your manufacturing needs.
Bumpon products are available in a number sizes and colors. Materials are supplied from Gleicher Manufacturing in standard or customized forms of:
Pads

Feet

Buttons

Bumpers

Sheets

Strips

Spacers
Click here to learn more about Bumpon Products available from Gleicher Manufacturing.