Serving a broad spectrum of industries Gleicher's advanced technology provides manufacturers with a wide range of capabilities for any of their production needs.
By constantly refining and engineering new and cost effective methods of converting Gleicher is able to manufacture their customers exact design requirements in a faster, more effective rate.

State of the art laser cutting system uses one or two heads to cut or score a variety of our non-metallic materials for quick prototyping, samples, product development and production runs.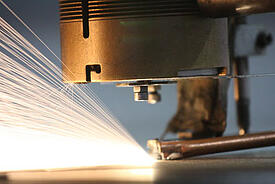 Using laser cutting systems alongside die-cutting to optimize converting capabilities enables Gleicher to cut any shape, small or large with extreme precision. These capabilities make it possible to deliver materials and parts formatted to engineer's design requirements in a ready to use state.

Experts at Gleicher have pioneered and developed the manufacturing technology necessary to effectively produce materials from 0.010" to 0.0500' thick and thicker, giving engineers the design flexibility they need for most applications.

Their cost efficient solutions optimize productivity, and allow for finished parts to be supplied in standard or customized length rolls, sheets, pads, or individual pieces.
Only Gleicher can provide engineer's with technical expertise, production capacity and quality needed to meet their production requirements. As experts in the field they work with their customer's through product design, material selection and production methods to ensure patrons are provide with precisely what they need for their product application.