Gleicher offers ecofriendly manufacturing options through products and services. Working with world-class brands such as 3M and Velcro Industries, Gleicher Manufacturing is able to offer customers a wide variety of ecofriendly options.

Gleicher's premium converter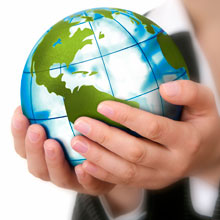 system is a Certified Class 100 Clean Room. This means Gleicher can convert materials in a setting that has a low level of environmental pollutants such as dust, airborne microbes, aerosol particles and chemical vapors.

3M GREENGAURD Certified Adhesives, which are water-based adhesives that have been certified to the GREENGUARD Children & Schools standard—the highest certification offered by the GREENGUARD Environmental Institute's (GEI) GREENGUARD Certification Program.

In addition to these efforts 3M has introduced a line of high-performance green products variety of high solids/low-VOC adhesives making them eco-friendly. Some of these high solids/low VOC adhesives include 3M VHB Tapes, 3M Scotch-Weld Structural Adhesives, 3M Rite-Lok Adhesives, 3m Scotch-Weld Polyurethane Reactive Adhesives, 3M Aerosol Adhesives, and 3M Scotch-Weld Sealants.

With Gleicher Manufacturing Company these green products can be customized to the size and shape needed for the particular project the adhesive is required. Read more about available 3M and VELCRO® Brand "Green" products and explore how you can use Gleicher's converting services to your advantage.