Although 1 to 5 mil viscoelastic will suffice in some applications, many applications require thicker materials, some .500' thick and thicker. Luckily, Gleicher has pioneered and developed the manufacturing technology necessary to effectively produce materials from 0.010' to 0.500' thick and thicker, giving engineers the design flexibility they need for most applications.

Dampening materials help convert vibrational energy into negligible heat making it easier for vibrational structures to recover faster after each vibration cycle. These materials effectively reduce noise, product fatigue and enhance performance.
Gleicher's fabrication capabilties include: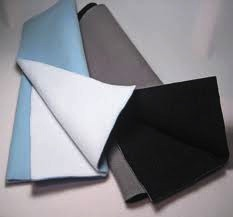 Multi-Layer Laminations
Constraining Layer Lamination
Precision Die Cutting including Thick Materials
Island Placement of Visco Under Constraining Layers
Precision Slitting/Scoring
Introduction of Non-Silicon Liners
Clean Room Packaging
Outgas Reducing Post Bake HEPA Filter Ovens
CAD Design & Engineering
Your Parts or materials will arrive production ready in the format best suited to your manufacturing requirements. So call, fax, or e-mail our design experts at Gleicher Manufacturing with your applications requirements. Learn more about viscoelastic dampening materials on the home page.