Posted on Tue, Jul 17, 2012
3M VHB tapes have proven to be durable enough to withstand the physcial restraints of road mileage and even the high speeds of NASCAR racing.
In a test to prove the durability of 3M VHB tape, two trailers were sent to the Bosch Automotive Proving Grounds. After 36,000 simulated miles, 31% of the mechanical fasteners on the first trailer became loose. After 100,000 simulated miles 3M VHB tape used to create appealing facades and durable panneling remained intact. Check out the results in the image below and let us know which one you think is more appealing!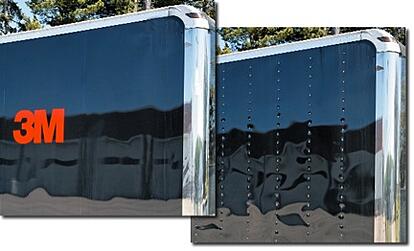 Creating more attractive exteriors is not the only benefit 3M VHB tapes offer the automotive and transportation industry, manufacturers were able to bond and seal pannels in one simple step which allowed for more productive trailer in a fraction of the production time.
Whether your automotive challenges be high speeds, road mileage, or thermal management Gleicher can pair you with the right 3M product to match the job. Learn more about 3M's answers to automotive and transportation challenges through the Gleicher and explore the 3M product page for an extensive list of Gleicher's inventory.