Feet are usually a permanent installation on a product and Gleicher stocks many choices including thickness and hardness of various adhesive-backed, skid resistant, protective products that can be cut to size as a cost efficient alternative to nuts and bolts.
But what if you needed a foot pad to be skid resistant and… removable?
So here is our Converter Solutions story…
Before Gleicher:
Manufacturers of a multiple purpose products were recommended to Gleicher to solve their need for slip resistant and removable foot pads. They were using sheets of black rubber for their feet, cutting the sheets into strips with box cutters and trying to align hook coin fasteners in place - time consuming and labor intensive. Also, the adhesive they were using was not bonding to the rubber and they wanted to approve the overall aesthetics the foot pad strips on their products.
Goal:
The goal was to design a part with slip resistant, protective urethane foam laminated to hook material where it would eventually fasten to loop adhered to the bottom their products. The hook and loop make the feet "removable" so the foot pad strips can be fastened or interchanged on multiple products.
Gleicher Solution:
Gleicher recommended for evaluation Roger's PORON® urethane foam 4701-60, a very firm material commonly used for energy management in gasket applications with a range of standard available thicknesses as well as hook and loop.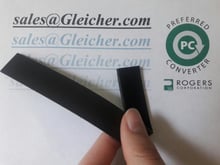 We used rolls of black pressure sensitive hook and black PORON 4701-60, we laminated the materials together and provided die cut strips as desired.
Problems Solved:
-removable
-slip resistant
-no assembly
-protect furniture
-attractive
As a Roger's Preferred Converter for urethane PORON® and silicone BISCO® foams, Gleicher Manufacturing Corporation expertly converts to your requirements and distributes Roger's products. Gleicher Manufacturing Corporation stocks and has access to a wide variety of industrial foams, fasteners and tapes that we can combine, die cut, laser cut, rotary cut, etc. to meet your assembly requirements. Contact us at sales@Gleicher.com for more information as we are ready to help you wherever you are at in your project - material selection to assembly ready part designs to timely delivery.