Avoid the hassles, research and digging that goes along with tracking down USDOD specifications for your next project by using the 3M FEDSPEC locator. It's a handy yet little-known feature on the 3M Web site.
Getting a grip on USDOD specifications can be challenging to say the least, but if you want to work on military projects, you've got be on point when it comes to meeting the exacting standards outlined by Uncle Sam.
Using the 3M FEDSPEC tool allows you to skip the complicated research and get right to the information you need.
How it works
Using the Locator is as simple as plugging data into one of two fields, either entering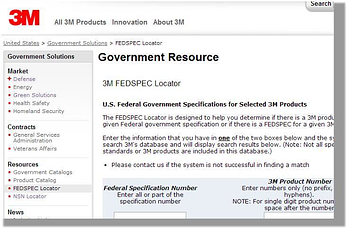 The Federal Specification Number

The

3M

Product Number
Depending on the information you enter, the system will tell you whether the USDOD has specifications related to the 3M product you entered, or if there is a 3M product that meets specific government specifications.
The 3M FEDSPEC Locator can be accessed at the 3M Government Solutions website.
Experience in Defense Matters
Need help finding USDOD specifications for a specific product or have additional questions? Reach out to a 3M Preferred Converter.
At Gleicher we are a 3M Preferred Converter with decades of experience working on military projects. While other converters may run the other way when faced with the exacting requirements that come along with military defense projects—Gleicher experts stand their ground. They've got the experience, technical support and resources from 3M to keep even the most challenging project on track.
You don't have to shy away from the extra effort required in defense work. Converters know how to help you dot your "i's"and cross your "t's" and meet any detailed recordkeeping requirements. And they know their products. If a military spec number is difficult to locate, Gleicher experts can help you find it, or they can help you source an alternative product that meets the specifications you need.
Working with a converter early in the process has numerous advantages, among them potential time and cost savings. A good converter can also help you minimize waste and ensure that you get the best final products possible.
Complimentary Engineers Guide to Adhesives and Fasteners
Take advantage of Gleicher's free converting guide, which outlines all the right questions to ask when working with a converter so nothing gets missed, whether it's ensuring that the project meets specifications or ensuring that your defense or military product can endure the harshest environmental conditions it may encounter down the line.
Engineers Guide to Precision Attachment and Assembly using Adhesives & Non-invasive Fasteners