If you're designing for the electronics industry, one of your biggest challenges likely comes in the form of heat management. You've got to manage heat and cold cycling effectively to protect the integrity of your device and its performance.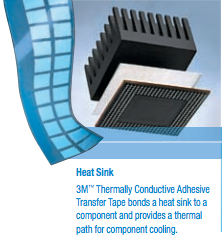 Thermal management has become even more challenging in recent years, as devices shrink and become more compact. While their small size makes them more portable and user friendly, it also means that they heat up more quickly, forcing engineers to come up with new cooling solutions.
3M can help. Their engineers have created new, innovative attachment solutions specifically designed to help your device handle heat.
These lightweight assembly solutions use a thermal-conductive adhesive that can not only stay securely fastened when exposed to high heat, but also help dissipate that heat to help devices avoid heat stress.
But with so many new products coming on the market, it may be a challenge to figure out which product best suits your design needs.
Gleicher Manufacturing can help you select from the 3M product families
Our experts can point you toward the best product for your device—one that will not only help dissipate heat, but also help you meet other environmental challenges, such as reducing drop stress.

It's important to start a conversation with your converter early in the process, ideally during R&D. Gleicher experts can walk you through product options that can withstand various environmental exposures, talk cutting methods and options, and lay the groundwork for a seamless production process that reduces waste and saves money.
Don't rely on rough cut samples for prototype testing
Starting talks with the converter during R&D and ensure that you get a production-ready sample that will stand up to real-life conditions—such as helping your device keep its cool as the mercury rises. Gleicher can help with Tape and Adhesive Product Samples or Production-Ready Prototype Samples.
TIP: To ensure that you ask the right questions, check out Gleicher's new guide that outlines the questions you should ask to ensure you get the best possible product for your device and insure a smooth production process.