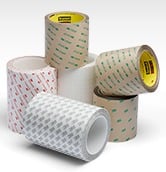 When you think thin, you might also think frail, weak or flimsy. It's time to think again. Scientific advances have allowed 3M's engineers to create super-strong, ultrathin tapes as small as .05 mm thick, providing a modern alternative to mechanical fastening systems. Thanks to new technology, 3M "ultra thin" widens your options for bond lines.
This is good news for those designing for the medical or health care industry, because while you need strength to ensure safety, you also need bonds that provide design flexibility and help you streamline production.
These tapes are made to stand up to
humidity
sun
water
extreme temperature shifts
exposure to chemicals including oils and mild acids and alkalis
This combination of lean and strong proves that fasteners don't have to be built like a linebacker to get results. Modern engineering methods now allow 3M to produce a high-tack standard acrylic spread over a thin polyester film to create strong bonds on slim surfaces.
There are a number of demonstrated benefits to using adhesives instead of mechanical bonding techniques. For one, you get bonds that are steady and uniform. You also get rid of leaking holes that invite corrosion and the labor you need to create them.
You can save money and hassles during production and can bond dissimilar materials more easily. Not to mention your final product just looks, well, prettier.
Not sure how to incorporate these ultrathin tapes into your medical device or healthcare product?
Gleicher Manufacturing's experts can help you find the solution most suited your design, whether you're looking for an ultrathin option or other type of structural, non-structural or pressure-sensitive adhesive. Request a Sample or Request Pricing.
Which regulatory standards are we meeting?
Gleicher can help with that too. We'll help match you up with the right product, and explain how one of our uber-thin tapes can become a robust addition to your design. Because skinny isn't scrawny when it comes to 3M.