3M™ Quick Bonding Adhesive 360 is dsigned for fast, secure assembly for a wide range of HSE and LSE materials including glass, ABS and difficult-to-bond PP, HDPE, LDPE, nylon and powder-coated or UV painted surfaces. A new 3M high performance quick stick acrylic adhesive 360 is now available in a thin 2-mil or 5-mil transfer tape and 2-mil or 4-mil double-coated tape for a low profile bond line and a smooth appearance.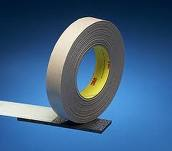 With Gleicher Manufacturing Corporation this new 360 bonding adhesive can be cut, shaped, and mass-produced to your desired project needs. The conformable adhesive provides shear and peel strengths that are equal to or greater than many thicker tapes, enabling secure attachment of the many new thinner and lighter-weight products being designed by OEM's today.
The technology behind 3M Laminating Adhesive 360 offers converters increased productivity with fewer time-wasting production issues. Users experience little or no oozing, helping die-cut pieces retain their clean edge, and virtually eliminating adhesive residue on cutting blades, liner backing and/or die-cut part surfaces, while removing concern for adhesive "picking" during unwind.