Pressure sensitive adhesive tapes from Gleicher Manufacturing allow you to simplify your assembly, improve manufacturing efficiency, add superior performance characteristics and reduce total costs.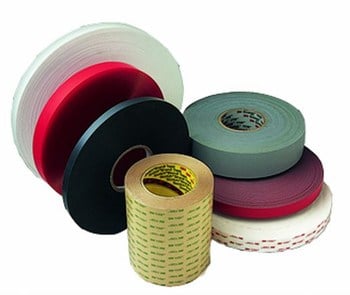 Combined with 50 years of manufacturing expertise, Gleicher offers specialty die-cut parts made from pressure sensitive adhesive tapes from the world's foremost manufacturers, like 3M, to add value to your product and profit to your bottom line.
Die-cut PSA tapes replace mechanical fasteners, glues, epoxies, mastics and spot welds in a wide variety of industrial and design applications. Applications include: mounting, bonding, joining, fastening, attaching, shielding, insulating, masking, protecting, sealing cushioning, quieting, gasketing, sound damping and positioning.
PSA tapes provide removable convenience or structural bonds for components in many electronics, computers, appliances, toys, lighting, furniture, etc.
PSA tapes are available in adhesive transfer tapes, film tapes and foam tapes. Tapes are available in custom strips or shapes, put in rolls, perforated in multi-piece pads or individual pieces to ensure configurations that are assembly ready for your application.
Design experts at Gleicher Manufacturing will help you select the appropriate tape product and engineer the converting technique for your design and manufacturing ideas.