Improve your product's appearance by replacing screws, snaps, bolts, latches, hooks and zippers with specialized flexible reclosable fasteners from Gleicher Manufacturing.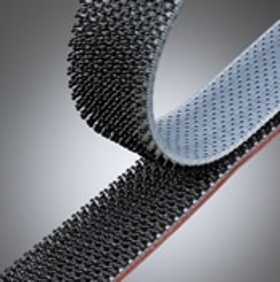 Flexible reclosable fasteners are a group of products that include hook and loop products, as well as a number of molded plastic fasteners, such as 3M Dual Lock.
These blind fasteners are used to attach or close assemblies without the evident holes and fastener heads typical of standard mechanical fasteners like screw and rivets. They become functionally invisible on finished assemblies while providing strong, dependable closure of removable components.
Hook and loop fasteners are comprised of stiff hooks that mesh with pliable napped loops. The result of pressing the two together is a reliable reusable closure. Hook and loop fasteners are available in a variety of colors in 5/8" – 12" widths, or custom slit to your needs.
The molded stems of 3M Dual Lock provide a closure with a holding power five times as strong as hook and loop fasteners. The fasteners engage with an audible snap by pressing the mating components together, interlocking the stems. Dual Lock is available in ½" – 4" widths in black or clear.
Both hook and loop fasteners and molded plastic fasteners are available as plain backed, or with a variety of pressure sensitive adhesives for a wide range of applications and substrates. Flexible reclosable fasteners can be supplied to you in standard rolls or Gleicher Manufacturing can provide fabricated parts in perforated, multi-piece pads, mated shapes for easy alignment, narrow web, scored rolls and a variety of configurations that are assembly ready for your applications.