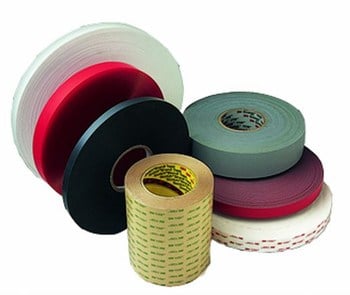 Looking to simplify your assembly, improve manufacturing efficiency and reduce your total costs?
Die-cut pressure sensitive adhesives from Gleicher are customized to fit your exact specifications. Gleicher's staff expertly selects materials, creates custom applications and supplies you with the exact PSA for your manufacturing needs.
For over 50 years Gleicher has used innovative ways to create custom applications. Gleicher's ability to create unique applications from standard products has made them a leader in converting for a number of industries, including: military, medical, fitness, and electronic.
Our PSA tapes from 3M are available in a variety of Adhesive Transfer Tapes, Film Tapes, and Foam Tapes.
Applications Include:
Mounting, bonding, joining, fastening, attaching, shielding, masking, protecting, sealing, cushioning, sound dampening, etc.