Posted on Wed, May 02, 2012
3M Dual Lock Reclosable Fasteners invisibly attach access doors and panels, signs, display components, and many other frequently removed parts. They provide easy openings and secure closings.

Reclosable fasteners give you choices that improve your product and save production time.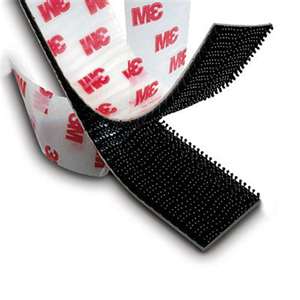 When the mushroom-shaped stems interlock, closure strength of the system is high enough to replace mechanical fasteners in many applications.Yet you can readily open and close Dual Lock Reclosable Fasteners hundreds of times.

3M Dual Lock Reclosable Fasteners are available in non adhesive-backed or adhesive backed versions. Adhesive backed versions bond to bar of painted metal, sealed wood, glass, many plastics including plasticised vinyl, and more. Adhesive backed versions are designed with a wide range of performance characteristics including: Flame resistance, high shear strength, low and high temperature resistance, and plasticizer resistance for use with most vinyls. 3M Dual Lock Reclosable Fasteners Low Profile is thinner than standard Dual Lock Reclosable Fasteners, perfroms similar to the 250/250 stem combinations and is clear for color matching.

3M Dual Lock Reclosable Fasteners provide easy openings and secure closing with enough strength to replace bulky, unattractive mechanical fasteners. For more information please visit the 3M Dual Lock home page.