Of the many Double Coated Foam Tapes for mounting that 3M Offers, the urethane foam carriers (which are an open-cell foam tape) offer high shear adhesives with high temperature resistance, as well as high tack adhesive.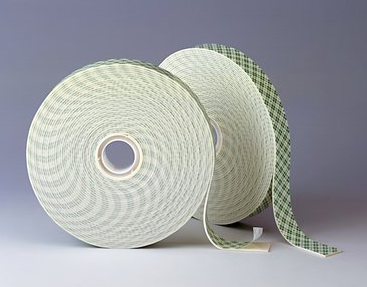 (3M's 4026 double-coated, open-cell foam tape)
Product thicknesses vary from 0.8 to 6.4 milimeters (depending on the degree of roughness) and are offered in an off-white color, with some also having the option for a black version of the tape. In addition, all urethane products provide medium solvent resistance.
Some of the potential application ideas for these open cell foam tapes include:
Mounting air fresheners, soap dispensers, interior signs and nameplates.
Attaching wire clips to various surfaces.
Bonding acoustic panels to walls.
Mounting an electrical channel to a wall.
These open cell foam tapes are able to fill gaps between irregular surfaces, making tasks such as bonding a plastic sign to a painted cinder block a less-stressful endeavor. Be sure to check out these products (and more) at www.3m.com today!