Gleicher's extensive selection of raw materials and advanced converting technology allows them to address a wide range of medical manufacturing needs including those related to cutting edge medical device development, diagnostics and wound care.
By combining our converting experience with access to more than 100 industry specific technologies, Gleicher ensures customers receive dependable products in which they can place unwavering confidence. Gleicher's premium technology helps provide engineers with reliable solutions designed for ease-of-use while simultaneously addressing complex performance requirements and increasing production efficiency.
Gleicher converts and supplies adhesives, tapes, films, components, nonwovens, release liners and fastening systems to an extensive group of industry leading medical manufacturers. The company's high quality industry standard materials are offered as individual components, semi-finished or finished goods to meet specific business-to-business customer needs.
Primary arenas within the medical manufacturing industry served by Gleicher include: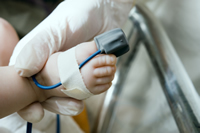 • Medical Devices
• Surgical Devices
• Electromedical Devices
• Advanced Wound Care
• Diagnostic Test Kits
• Bioanalytical
• Drug Delivery Devices
• Cosmetics
• Consumer Health Care
• Surgical Drapes
• Ostomy

Learn more about Gleicher's Medical Converting services and Medical Solutions.