With advanced converting services, Gleicher creates specifically tailored solutions for today's demanding applications. Together 3M and Gleicher work hand-in-hand with medical device manufactures to address some of the toughest obstacles in design and automation.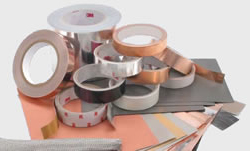 What the experts at 3M and Gleicher found was that medical manufactures had been facing a numerous amount of challenges with shock and vibration of medical devices. Together 3M and Gleicher found a simple solution. To help eliminate this obstacle and improve design and automation Gleicher suggests 3M's VHB Tapes.

3M VHB Tapes bond on contact while absorbing shock and flexing for reliability against vibration and other stresses. They specifically work to eliminate the problems caused by shock and vibration in the design and automation of medical devices.
Learn more about 3M VHB Tapes and other material solutions by visiting our material selection page.