Over the past 6 months the Gleicher Rapid Prototyping Program has experienced a tremendous amount of success, introducing new approaches to innovation that provide reduced time to market, and high-value end product.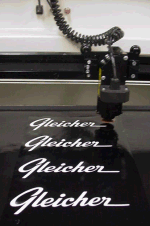 We work closely and seamlessly with customers' engineering and design teams to develop ideas and test concepts. The result: expert products with superior design, rapid transition from development to manufacturing, and fewer breakdowns in the design and manufacturing process.
Gleicher's manufacturing and design experts assist in choosing the ideal 3M and VELCRO® Brand materials for precise manufacturing projects. With customized dampening products, bumpons, PSA tapes and reclosable fasteners, we create ways to bring products from an idea to a functional product.
Gleicher Manufacturing is a leading provider of engineered bonding, fastening and sealing solutions. Our newly introduced Rapid Prototyping Program builds on our culture of listening to customers to offer additional value. Ask a pro how we can help you with your design challenges.