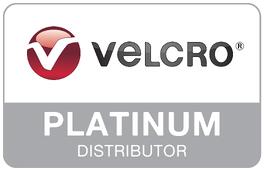 VELCRO® Brand knits have been designed for use in a wide range of applications from disposable products to high strength fabricated straps. Used in medical, apparel, abrasives and industrials application VELCRO® Brand knit loops provide secure fastening and holding strength to match the job.

Experts at Gleicher have pioneered and developed the manufacturing technology necessary to effectively produce materials from 0.010" to 0.0500' thick and thicker, giving engineers the design flexibility they need for most applications.

Gleicher's advanced converting technology makes it possible for the entire line of VELCRO® Brand knit loops to be slit to nearly any width, die-cut into shapes, and is available in custom colors to perfectly match your product designs.
Their cost efficient solutions optimize productivity, and allow for finished VELCRO® Brand parts to be supplied in standard or customized length rolls, sheets, pads, or individual pieces.

Ask a pro about VELCRO® Brand knits, our advanced converting services and wide variety of VELCRO® Brand and 3M products