It's almost limitless how many ways adhesives and fasteners can be combined into solutions.

As a Product Engineer, you've put sweat and tears into wading through the available options, and you've designed the best solution for your product. Or more specifically, you've designed the best solution given the options available at the time.

But then a new component comes onto the market.

Perhaps a new pressure-sensitive adhesive, or a lighter-tack release-liner, or a more durable re-closable fastener just came out. Or adhesives with faster set times become available. Now you face a choice: Is the new component better for your application? Should you switch? What would that do to the other components of the solution?

Let's take a step back: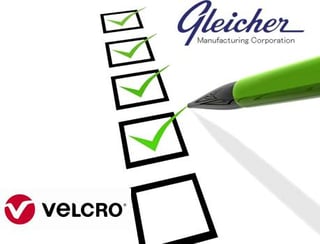 Gleicher current and future customers are invited to participate in our Application Review Program. The program is designed to double-check for attachment, fastening, or sealing options in design, materials, and assembly to help Engineers be sure they have exactly what the project needs.

The goal of an Application Review is to discover the overall material, adhesive, or converting solution that may perform better, save time, or reduce overall product cost. Sometimes the attachment solution is obvious. Most of the time product exposures, stresses, and assembly processes introduce variables that complicate the makeup of the solution. For example, even when adhesives are carefully matched to surface chemistry, they will only adhere when the factors of pressure and time are taken into account. Sometimes these assembly factors, or extreme exposures, make the hunt for the optimal solution that much more challenging. See how we get to that exact solution.
Areas of review:
Cost Savings – newer materials and product designs can lower piece cost, but can also lower labor costs in assembly.
Material Compatibility – ensure substrates, adhesives and liners combine for the optimal solution.
Assembly Speed – for manual or automated assembly, we'll review converted formats (rolls, pieces, etc.) assembly time, required pressure, addition of release liners, and optional guides for positioning.


The bottom line:
Engineers want to get products from concept to final assembly faster and with less trial and error. Gleicher helps by providing exactly the fasteners and attachment solution the project needs. The R&D in the middle is where Gleicher shines. Just click the link below - If an option exists or can be engineered, we can work with you to quickly develop a proof of concept for testing.
Get Started: Solution Review for Applications Using VELCRO® Brand Products