Posted on Thu, Oct 27, 2022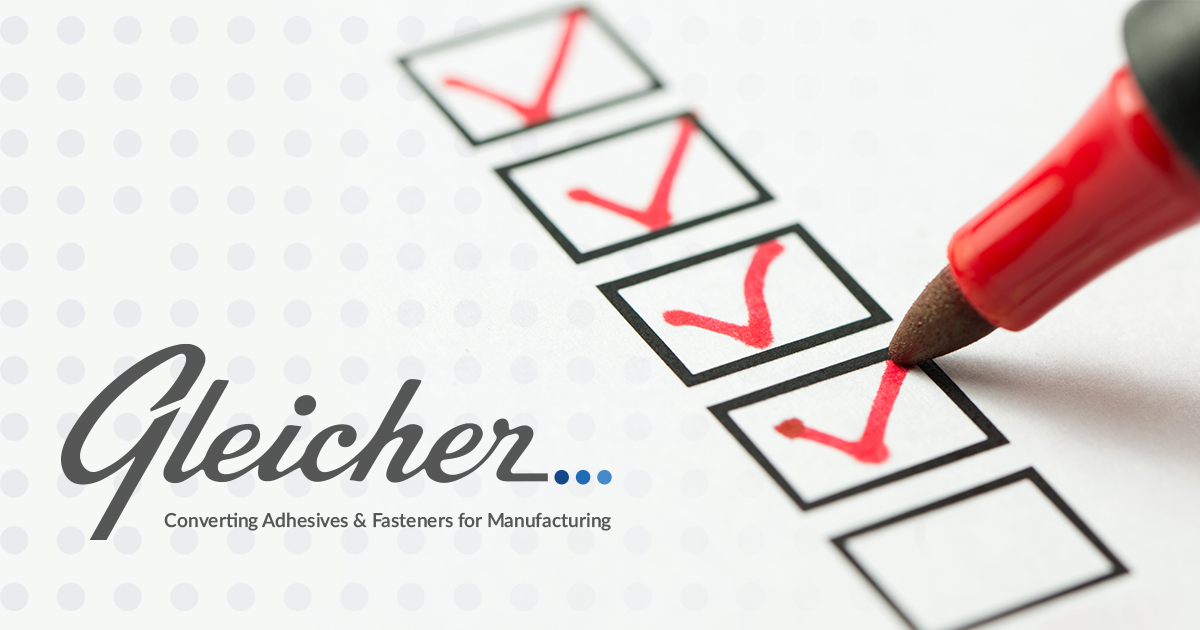 At Gleicher, our goal is to help our customers find solutions. To do that we ask a lot of questions and listen to the answers that our customers provide. The questions we ask helps us to understand our customer's unique situation and guide them toward the right solution.
We view each client project as uniquely individual in its requirements. Over the course of more than seventy years of business, we have encountered thousands of different circumstances leading to countless solution variations. Among those solutions we have discovered underlying similarities. From those observations, we developed a set of questions that we ask customers at the outset of every project. Listening to the answers and asking more questions gives us the details needed to find The Right Choice for our customers.
So, what questions do we regularly ask at the start of the journey?
What is the application? It is important to gain an understanding of the project and the goal of the material and adhesive. To know the intended purpose from the start. For example, will the bond be structural, permanent, repositionable, or resealable? Precisely how large is the area to which the adhesive will be adhered? How will the adhesive be applied? What are the specs of the project?
What surface will the adhesive be adhering to? It's a logical and fundamental question. Surfaces matter. Will the adhesive be adhering to metal? Glass? Plastic? Is the surface smooth or textured? The possibilities are endless, but the answer is a key portion of the decision making process as to which adhesive is the best choice.
What are the environmental conditions? What are the characteristics of the environment where the end product will be used. Considerations under this question include temperature, humidity, and sunlight exposure. Will the product be exposed to extreme temperatures or temperature fluctuations? Then there's moisture. Humidity plays a big role in determining the choice of adhesive. Is the humidity consistently high or low? Is there a swing similar to that of temperature? Location is also an environmental consideration. Will the product be inside or outside? Will it be exposed to sun? The sun's UV rays can adversely affect adhesive performance in outdoor environments. There are other environmental considerations such as vibration to consider.
What are your tolerances and are there any other design or production parameters that need to be considered? When quoting a project, details such as tolerances that will need to be adhered to are very important. We always encourage our customers to get Gleicher involved as early as possible in their design process - during the R&D stage if possible.
At Gleicher our experience and knowledge allow us to ask the right questions to provide you with the best solution for your unique project.
You can reach the Gleicher adhesive solutions specialists with your questions at 908-233-2211 or email sales@gleicher.com.