Posted on Mon, Oct 03, 2016
Make your retail customers take notice and communicate better with your in-store pricing and promotions by creating a Repositionable, Shelf Edge, Retail Sign System using 3M™ Dual Lock™. (1) Peel and stick 3M™ Dual Lock™ along the edge of shelves applying pressure;

(2) attach strips or coins to your shelf signs; (3) snap sign into place then lift and move over and over! This system using clear 3M™ Dual Lock™ SJ3560 was recently found installed in a prominent department store and seems to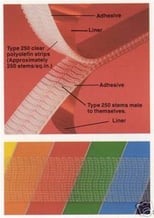 be a very quick and productive tool to announce with shelf signs new arrivals, special offers, descriptions, point of purchase and new products that could be used on shelf edges in a wide variety of retails stores such as grocery stores, supermarkets, convenience stores, discount stores, outlets, dollar stores, drug store and pharmacies.
Easy shelf edge installation - clean and dry the surfaces, peel the protective liner away, align and apply pressure to bond (see suggested adhesive cure time). To complete your system, add our 3M™ Dual Lock™ Strips or our circle Coins to your shelf tags, label mounts, signs and talkers to fasten, remove and refasten over and over again! No more installing and fixing flimsy gondola shelf channels, strips and clips again! No screws… No bolts... No tying!
Buy what you need as Gleicher stocks and sells peel and stick 3M™ Dual Lock™ for retail shelf edges sold in Clear (SJ3560) or Black (SJ3540 and SJ3550) in 50 yard rolls ½" – 2"+ widths. Also, Gleicher sells 3M™ Dual Lock™ Strips or Coins to fasten on the back of sign holders, channel mounts, danglers, wobblers, sign flags, shelf tags and shelf talkers. If you want another width or strip or coin size, Gleicher offers a Cut to Size Service of 3M™ Dual Lock™ to your dimensions, shape or width – just forward your dimensions and quantity to sales@Gleicher.com.
Gleicher proudly offers 3M™ Dual Lock™ by the Roll or Cut to Size for small to large orders for business and school projects. Other 'Made in the USA' materials offered at Gleicher include a wide variety of 3M™ VHB™ Tapes and VELCRO® Brand Fastener, 3M™ Bumpon™, PORON and BISCO foams that all qualify for our Cut to Size Services. Gleicher has been expertly converting industrial tapes and fasteners in our family business in Scotch Plains, New Jersey, USA for over 65 years! Our friendly staff at Gleicher would appreciate the opportunity to expertly take your projects from material sampling to assembly-ready part designs to timely delivery!
Kathleen, Colleen, Barry, Manny and Doug
888.818.5798

Gleicher Manufacturing Corporation
3M Preferred Converter, Distributor