Posted on Wed, Dec 21, 2022
You may have noticed a subtle change in the Gleicher logo that took place recently. It's intended to honor the roots of our company, and the things that keep us at the forefront in converting fasteners and adhesives for manufacturing.
As a family-owned company since our founding in 1949, Gleicher is proud of its long history of excellence and achievements in serving our customers. Given the challenges that our industry has been experiencing, we believed it was time to bring renewed attention to our name and to the values that lead to our unmatched services and solutions.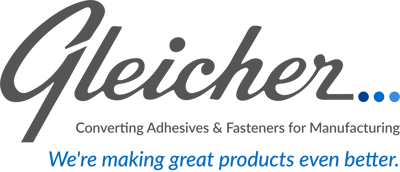 Today, three dots in different shades of blue replace a "tail" after the "r" at the end of our name.
Their blue colors represent confidence. It's that confidence we want every customer to feel and experience when they choose Gleicher.
The dots themselves represent the three dimensions of our commitment to excellence: Experts, Service, and Quality.
EXPERTS
CONSULTATION & DESIGN: Our consultation, guidance, problem solving, and converting are all made possible through our unmatched knowledge, insights, and experience. They are the result of working closely with clients in diverse industries for more than seventy years.
SERVICE
MATERIALS & MANUFACTURING: Our responsive support combines with the highest quality materials and a complete range of state-of-the-art converting processes. The result – outstanding on-spec and on-schedule results.
QUALITY
PRODUCT/BRAND PERFORMANCE: We strive for consistently reliable adhesive and fastening performance in product converting and application. Surpassing requirements through our converting capabilities, dedicated partnerships, and attention to detail is of paramount importance.
PEACE OF MIND
Everything we do at Gleicher revolves around it. It is one of the most important things we provide to our customers. Our deep knowledge and experience make it all possible. Gleicher product specialists include former 3M and VELCRO® Industries employees. They understand scientific processes and protocols and know the product lines and converting solutions inside and out. These experts are always ready to consult and guide you to The Right Choice of fastening and adhesive solution. If you do not know what you need, you can be confident they will.
The next time you see our logo, please remember the proud heritage it stands for. It's our promise of continued excellence in serving your fastener, adhesive, and converting needs.
At Gleicher, we don't just convert. We transform.
You can reach the Gleicher fastener solutions specialists with your questions at 908-233-2211 or email sales@gleicher.com.