Skyscrapers, appliances, signs, electronics - all trust the high-strength bonding of 3M™ VHB™ Tapes (very high bond). For over 35 years, versatile 3M™ VHB™ Tapes have been used to make products stronger, lighter and simpler by eliminating some processing steps, reducing rework and driving down costs.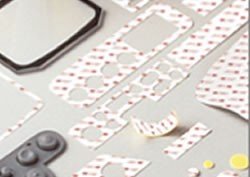 If your current method for joining materials together is sonic welding, chemical bonding or using mechanical fasteners (screws, rivets, etc.), it is time for you try 3M™ VHB™ Tapes, which have passed the tests of time and durability. Unlike screws, rivets or welds that join materials at a single point, versatile 3M™ VHB™ Tapes permanently adheres one substrate to another while spreading the stress load across the entire length of the joint. These high-strength, closed cell, acrylic foam tapes are conformable to each surface and the extraordinary bond is moisture, solvent, temperature and weather resistant. Below is a list of some amazing features of 3M™ VHB™ Tapes:
Features of 3M™ VHB™ Tapes

-Outstanding strength

-Energy absorbing properties

-Exceptional durability

-High temperature resistance

-Conformable, closed cell foams

-UV resistant

-Multiple surfaces - glass to plastics

-UL746C recognition

-Excellent moisture resistance

-Low temperature application choice

-Solvent resistant

-Narrow to 48" widths

-Stress relaxing properties

-White, Black, Clear, Grey


-Acrylic PSA

-Gleicher laser cuts, die cuts, laminates & slits VHB
So how do you determine if stronger, lighter and simpler using 3M™ VHB™ Tapes fits your operation? Contact us to review your bonding application, which can include surfaces, environment and forces, to sales@Gleicher.com or 908.233.2211. And after selecting a tape, we can arrange to mail a sample for you to try.
And remember that Gleicher Manufacturing can expertly laser cut and die cut rolls of 3M™ VHB™ Tapes into strips, circles, washers, shapes and gaskets with your dimensions or drawings. Since 1949, Gleicher has been laminating, slitting and cutting tapes into assembly ready parts including 3M™ VHB™ Tapes and has earned "3M Preferred Converter" status.
For a list of tapes, color, thickness and data pages, see our webpage 3M™ VHB™ Tapes for Assembly Solutions.
Gleicher Manufacturing Corporation, Scotch Plains, NJ, USA
sales@gleicher.com, 908.233.2211, 908.233.2292 (fax)