Posted on Mon, Jun 27, 2016
With over 10 years each of customer service for converter Gleicher Manufacturing Corporation, our staff is happy to list for you the steps to consider on how and where to buy industrial tapes and fasteners to be die cut, rotary cut, slit, laminated or laser cut – i.e. converted.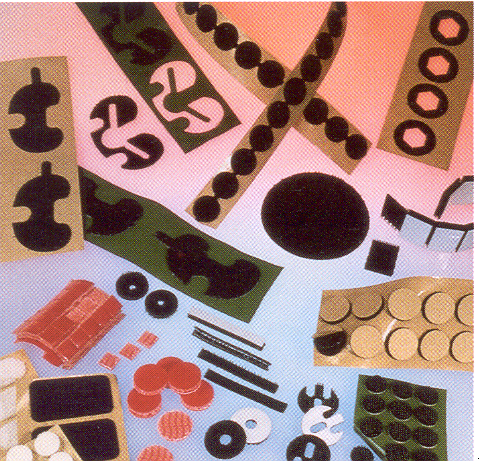 Reputation – Often overlooked, does the converter have a reputation for precision, quality, meeting delivery needs and great customer service? How long has the company been die cutting? Also, look for vendor certifications, such as 'Preferred Converter.'
Gleicher has been converting and die cutting since 1949 and has earned elite Preferred Converter status from major suppliers, 3M™ Industrial Div., VELCRO® Brand and Rogers PORON® and BISCO®. Please visit Gleicher Capabilities for a list of services and capabilities including material width ranges.
Lead times – As this will be an industrial tape or fastener cut to your dimensions, you ideally need 1-2 weeks to select a material, receive a sample to evaluate and have a quotation on your part specifications with material selection. You need approximately 4-5 weeks after you place the order to receive the parts. Providing UPS or Federal Express account numbers can expedite material sampling and production materials if not in stock.
Once Gleicher receives an order, it goes to material planning, QC for drawing control and production for scheduling. Many materials are in stock or require 1-3 weeks to receive from our vendors and a few materials may have a lead time of 4 weeks or more.
Material Selection – Discuss your requirements with a manufacturer's representative or reputable converter and request available manufacturer Material Data Sheets and MSDS for technical information. It is important for you to consider the surface for adhesion, permanence, stresses and environmental factors. Make sure the surface is properly prepared and evaluate a sample strip of the material or purchase a prototype part.
Gleicher uniquely has former 3M™ Industrial and VELCRO® Brand manufacturing representatives on staff for you to discuss your application and guide you to appropriate materials to evaluate. Contact Barry.S@Gleicher.com for 3M™ Industrial tape products and Manny.C@Gleicher.com for VELCRO® Brand products. Gleicher also offers a prototype service or 1st articles so you can test a part or material before ordering a full production run.
Part Design – When you have your dimensions, tolerances, material selection and in house date request, forward the information to the converter. If it is a shape such as a washer, many customers will forward a CAD drawing with a part number and revision labeled.
At Gleicher, part of our quote process is asking "how will the part be applied." If applying in an assembly, your tape or fastener part should be cut to the liner in rolls as it will add to your assembly efficiency. If the end user is applying, you can consider individual pieces or pads of parts to include with your product. For 3M™ Dual lock™ or VELCRO® Brand, cutting the fasteners mated can help with alignment when applying to your product. All tape parts should consider if a tab or split liner is necessary to aid when pulling off the last liner.
Quoting – With material selection, part design and quantity decided, a quotation can be calculated. This is where you should see lead time, payment and FOB terms. For the part designs with a non-standard shape, expect a die, tooling or initial set up charge on the quote.
To request a quote from Gleicher, send your material selection, part dimensions or drawing, tolerances and in house date request with the quantity to sales@Gleicher.com. Please note for us if it is a prototype quote or if in need of first article samples. Your first order can be processed after receiving a credit card payment. Subsequent orders can request to apply for terms. Our standard lead time is commonly quoted as 4 weeks, however, can vary due to material lead times - in stock materials, ordered materials and made to order materials. With non-standard shape part designs, the customer will likely see on the quote an 'Initial Set Up Charge'.
Ordering – Gleicher requires a copy of the order (and drawing) emailed to sales@Gleicher.com with a UPS or Federal Express shipping account number and credit card payment. A Certificate of Conformance is not charged if requested when ordered. At Gleicher, an acknowledgement is forwarded to you after it goes through material planning, QC, tool and machine scheduling. We will notify you if any changes occur. After the parts are cut, we label the core of the roll or bag with your part number and reorder contact information, properly pack the carton so no crushed parts arrive at your dock and email a shipment notice.
We hope this information will help you when considering where to buy converted industrial tapes and fasteners. Gleicher cuts to size a wide variety of industrial 3M™ VHB™ Tapes, 3M™ Dual lock™ and VELCRO® Brand fasteners, 3M™ Bumpons™ as well as PORON® and BISCO® foams. We have been expertly converting industrial tapes and fasteners in our family business in Scotch Plains, New Jersey, USA for over 65 years!
Our friendly staff at Gleicher would appreciate the opportunity to expertly take your projects from material sampling to assembly-ready part designs to timely delivery!
Kathleen, Colleen, Barry, Manny and Doug
908.233.2211